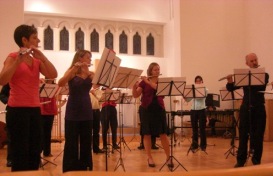 The following tracks were all recorded at St Clements Church, East Dulwich, on Saturday 6 June 2015.
Rhumba - Michael Coolen
Intermezzo from Goyescas - Enrique Granados arr. Russell Howland
Tico Tico - Zequinha de Abreu arr. Trevor Wye
Solace - Scott Joplin arr. Mel Orriss
Four to Tango - Daniel Dorff
Suite from the Spanish Lady - Edward Elgar arr. Rob Rainford (Country Dance, Burlesco, Adagio, Sarabande, Bourée
Spanish Love Song - Traditional arr. Ann Cameron Pearce
Mexican Hat Dance - Traditional arr. James Christiensen
Danza Mexicana - Jacobo Datshkovsky arr. Arthur J. Ephross
Oblivion - Astor Piazzolla
Flautista (a suite of Latin dances) - J.W.Palmer (Mambo, Bolero, Paso Doble, Samba)
Malaguena - Ernesto Lecuona arr. Ann Cameron Pearce (with the London Mandolin Ensemble)
Tico, Tico - Drake/Olive/Al arr. Trevor Wye, I'll Love My Love - arr. Phyllis Avidan Louke, Dibble Dobble - John Holland are from the formal concert held 25th May 2010 at St Clement with St Peter Church in Dulwich.
Danse Macabre - C.Saint-Saens arr. Angelita Floyd, Quintett in F-dur - Giuseppe Richter, Pink Panther Suite - Mancini arr. Amy Rice-Young are from the performance at St Georges Church, Catford, as part of a 'same instrument' chamber concert held September 2009.
All other recordings 7th June 2014 except tracks 25, 29, 33 and 35 from our joint Christmas concert with
Koruso!
which took place on Saturday 13 Dec 2014 and tracks 21-24, 26-28, 30-32 and 34 which are from the 'Night at the Circus' concert on Saturday 25 October 2014.
Can't see the player? Please update your browser or use FireFox....