Formed in 2008, Opal Flutes is a friendly flute choir based in East Dulwich, South London.
We perform two or three concerts a year plus many informal performances throughout the local area, and perform a wide variety of music – from classical to pop and everything in between!
The flute choir repertoire is wide-ranging. Music from the baroque, classical and romantic periods feature regularly alongside music from films and shows, popular music, and staples from the contemporary flute choir repertoire.
In 2020 we launched our YouTube channel, where we regularly upload virtual performances and recordings of our in-person activities.
Edward Elgar - Chanson de matin
Ricky Lombardo - Traffic Jam
John Holland - Dibble Dobble
Saint-Saens - Royal March of the Lion
Julius Fucik- Entry of the Gladiators
Most of our concerts are staged at Balham Baptist Church, 21 Ramsden Road, London SW12 8QX. Tickets available on the door. Check listings for alternative venues and ticketing arrangements.
Coffee concert as part of the Herne Hill Music Festival. See https://hernehillfestival.org/home for more details
Saturday 14 October 2023, 6pm
'Scenes from Childhood' - including music by Schumann, Bizet and Ricky Lombardo, plus some favourite TV themes! Balham Baptist Church, 21 Ramsden Road, London SW12 8QX.
Saturday 16 December 2023, 6pm
Christmas concert, at St Faith's Church, 62 Red Post Hill, North Dulwich, London SE24 9JQ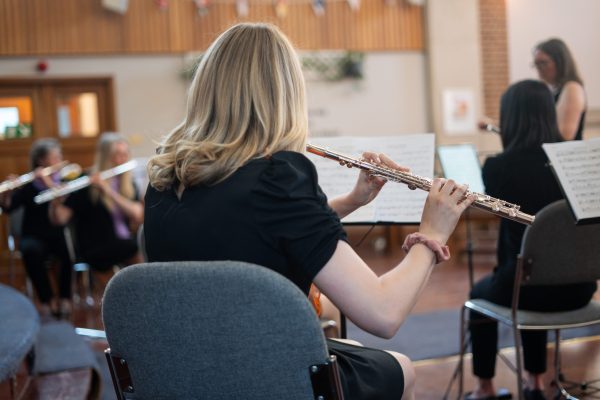 No audition and subscribe for 6 months
All are welcome to attend our informal rehearsals. You can also try us out first before you sign up. If you enjoy our trial rehearsals we'll ask you to subscribe for six months.
Use the form below to send us an email